Wild walks, workshops and collaborations with people and purpose-led organisations.
Brand identity and language development: Freelance consultant (present)
Working in the depths as a 'story echolocator' for people with purpose. Asking questions of the heart and humanity at the centre of the cause…
Community storytelling for Dorset Wildlife Trust (2022)
Inviting story into community conservation, reminding people how to 'be' around story, capturing the magic of a beautiful, nature-aligned project and celebrating with a gallery installation, film and music from Bournemouth Symphony Orchestra. Film coming soon.
Campfire trails (coming 2022)
Coast paths and forest tracks. Old stories. Old ways. Join us in 2022 for a new series of campfires and explorations into heart space in south west England. Contact me to hear news as it comes.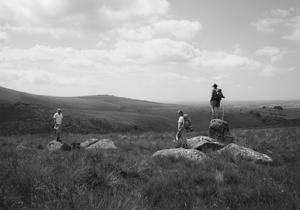 Story and Communications Lead at The Bio-Leadership Project (present)
A different form of progress by working with nature.
Bottling up some of the incredible goings-on from within The Bio-Leadership Project, casting light on beautiful stories for our planet. We are with nature. We are for nature. We are nature. See more here.
Facilitator for Future Leaders Network (2021)
Working with youth leaders from Y7, the youth engagement group for the G7, to prepare media-ready speeches and bring voice, purpose and passion to policy.
Writer for Ernest (coming autumn 2021)
A journal for enquiring minds, founded on the principles of slow journalism.
Contributing writer investigating the power of science fiction as a mirror to society.
Speak Out brand consultant and facilitator (July 2020 – August 2021)
Listen in. Find your voice. Speak Out. Online, interactive workshops.
Brand development, content and course facilitation. See more here.
What if collaborator, co-writer and editor (May 2020 – Present)
Hopeful questions to give everyone a little lift.
Script collaboration and film editing. 350,000 views. See more here.